Website Values are calculated by the website worth, daily page views and daily visitors, daily ad revenue, Alexa rank, Backlinks, visitors by country, website values and etc.
06. Worthofweb.in
WorthOfWeb.in is also helpful to calculate worth of web of any website. In other way we can tell that WorthOfWeb online tool that calculates the website worth of other websites. If anyone wants to calculate the worth of a web for him website then it can easily calculate worth of website in Worthofweb.in site.
We use a custom algorithm that takes care of website popularity, traffic ranks, backlinks, and other information of a submitted website to generate the data. We display also extra information such as Alexa rank trend, IP address, server geolocation, Alexa graphs, Facebook recent activity and other useful details of a website
05. Siteprice.org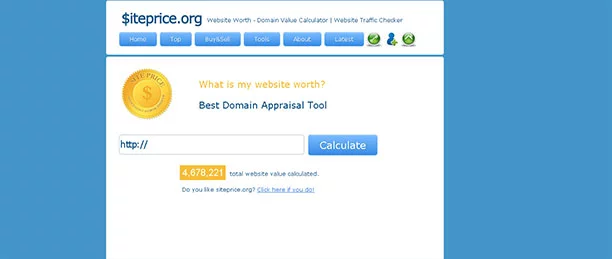 siteprice.org is a free website price, website worth calculator and domain valuation estimation checker tool.
siteprice.org helps you to find your website market price and your domain value. It's not easy to calculate and estimate a website price exactly. siteprice.org estimates the website market price(not the business price) with using several information with gathering, collecting and analyzing data from internet resources.
To estimate the worth of a website, siteprice.org calculates with its own unique algorithm. If you want to sell your website or buy a website you'll probably need to know that "what is the estimated value of the site" and appraise it.
04. webuka.com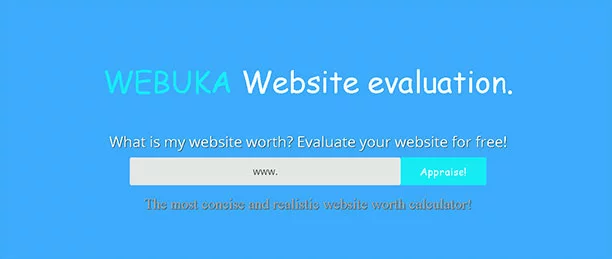 Webuka is the free website worth calculator working with: Google API, Yahoo API, Alexa API, Compete API and W3C Markup Validation Service. And The mathematical formulas behind the website evaluation algorithm are calibrated using real website transactions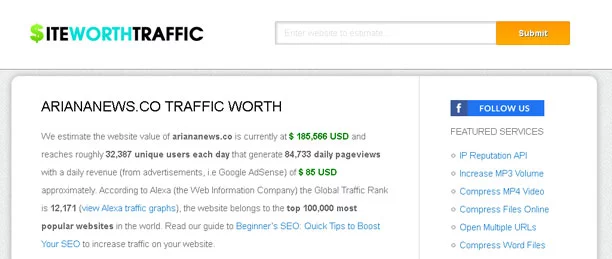 SiteWorthTraffic is a free service that allows users to view how much is worth a website and analyze the traffic statistics of any website. This service estimates the website worth, daily revenue, unique daily visitors, and daily pageviews of any submitted website. Take in mind that all the generated estimations are approximate.
02. Worthofweb.com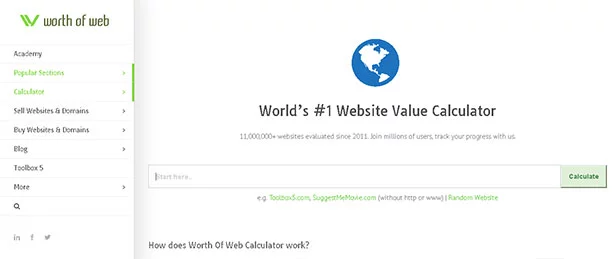 11,000,000+ websites evaluated since 2011.Estimated website worth: they calculate it based on our estimation for daily, monthly, annual revenue.WOW Score: they calculate it based on traffic figures we used.WOW Rank: they give it a rank based on WOW Score.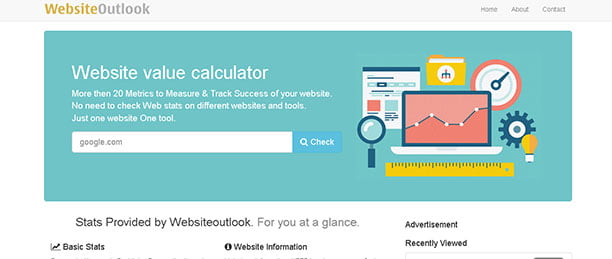 Websiteoutlook is the perfect place to evaluate any website. When choosing to buy or sell a website having the proper information about your investment can be crucial to your success. Websiteoutlook is dedicated to finding all pertinent information that may pertain to your personal interest. And it's FREE! We hope that you find Websiteoutlook helpful and that you will return when you need us again. The information offered by Websiteoutlook is not guaranteed to be 100% Accurate and is offered as reference only. Further research and conformation of claims are advised before any substantial investment.